Well Guys,Most of you know that I'm a Deuce nut and this long story started about 15 years ago when I traded my friend Rick my 1939 Ford Convertible for a stone stock non running 1932 Ford sedan and a glass Gibbon 3 window body.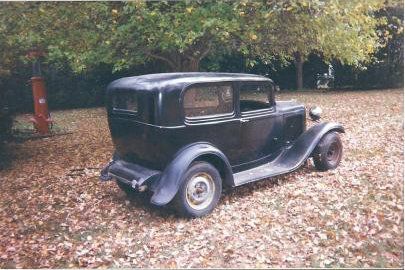 I sold the coupe quick and started the sedan build,,at the time I was not going to build a restored car rather a resto rod so I sold the running gear and a Model A coupe body to finance a complete TCI chassis.
I used a 330 hp crate engine and turbo 350 transmission.
About 2 years into the project my moms health took a nose dive and between 65 hour work weeks and helping take care of her the sedan just collected dust,I just walked away from the shop for almost a year.
During this time I didn't have a drivable hot rod and almost lost interest in everything,,then one day a good friend of mine ask me if I might be interested in his roadster because he had found a 1940 Ford woody.
Roger called me that very same day and I quoted him a price,,he showed up the next day with cash in hand and as he drove away,,I knew I had made a mistake but the deal was done an I had a roadster.
My mom passed away a few months later.
Roger and I had become good friends over the years but him living in North Carolina we didn't see each other too often but every time I saw him I asked if he is ready to sell it back to me,,the reply was always "you will have to take that up with Bevery when I'm dead and gone" with a big grin on his face,it had become a running joke with us.
Sadly, last November Roger died suddenly,,I went to the memorial service in North Carolina and had a chance to talk to Beverly but never mentioned the car,,it was not the time for that.
Ralph,one of Rogers and my friends lives in the area and has kept close contact with Beverly and informed me recently that she had made the decision to part with the sedan and Roger had left instructions that he wanted me to have the first refusal.
I didn't have the cash to buy the car back and after Brenda & I talked about it,she encouraged me to sell the 4 door sedan,thankfully the car sold fast and is own it's way to
japan.
Fathers Day we were able to drive to North Carolina and buy and drive my old 32 Tudor sedan back home.
It ain't shiny,it ain't pretty and interestingly enough it hasn't really changed,,Roger never re-painted the car 0r installed a interior other than the Mexican blanket seat covers,,but I'm about as happy as a kid on Christmas Morning! HRP
Brenda took this photo as I pulled out into the highway headed for home.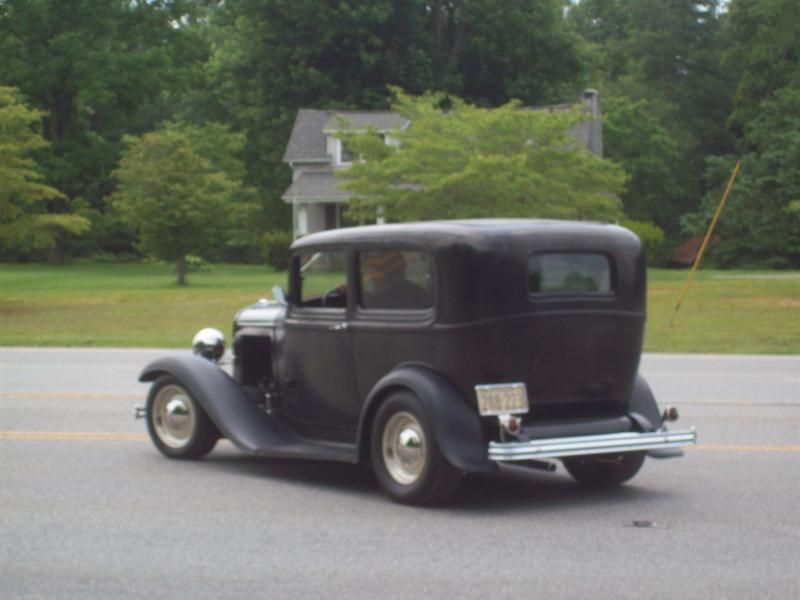 these were taken in our drive way.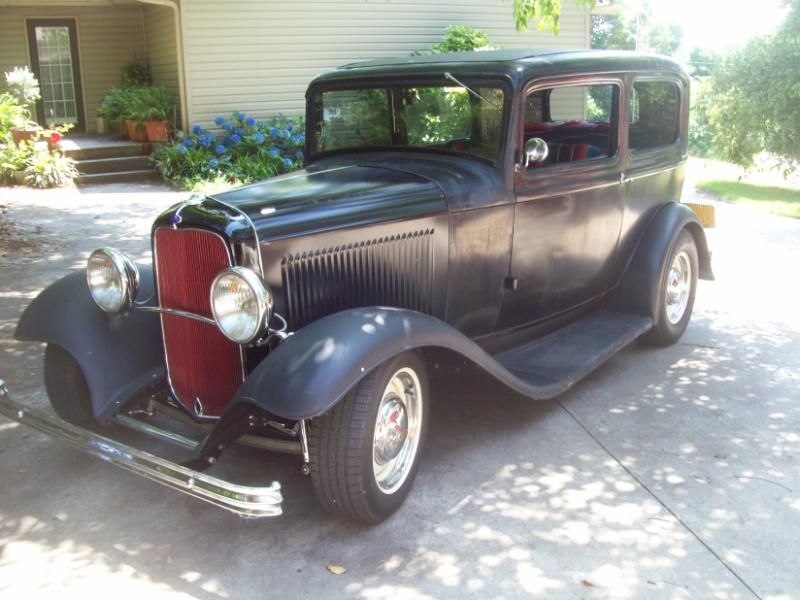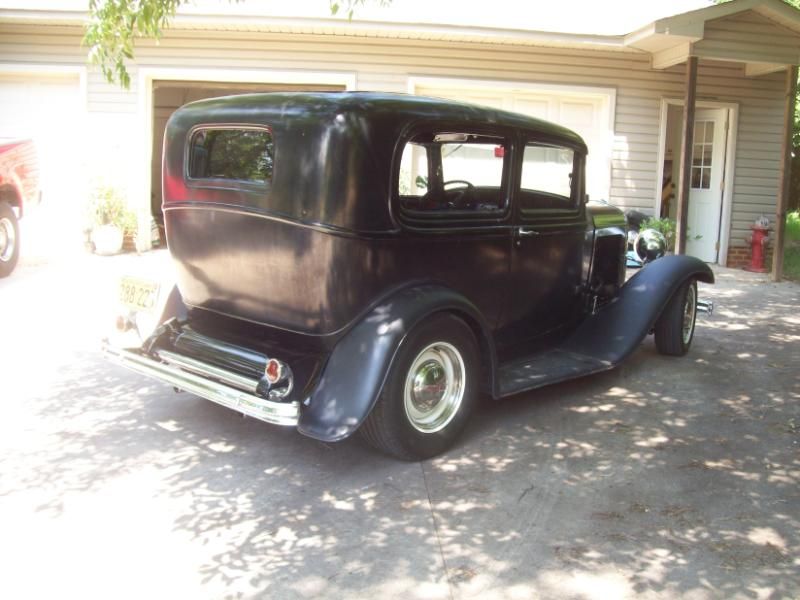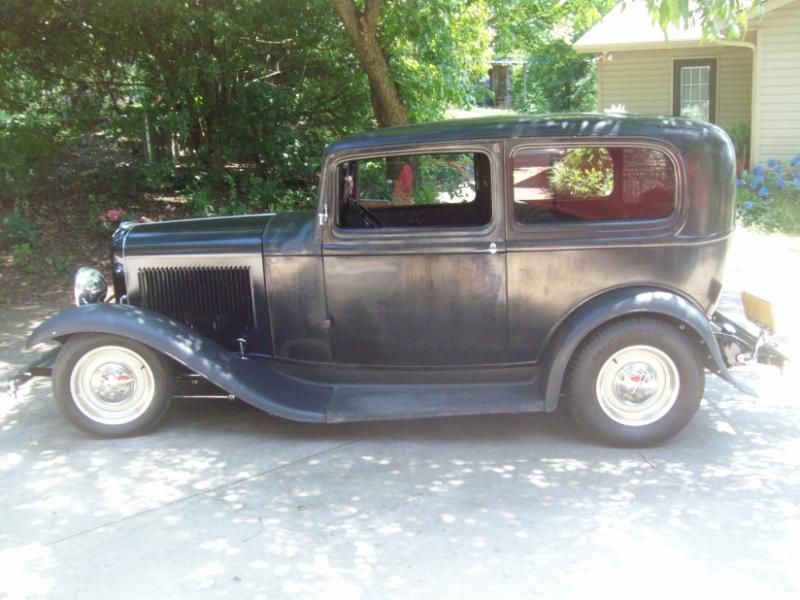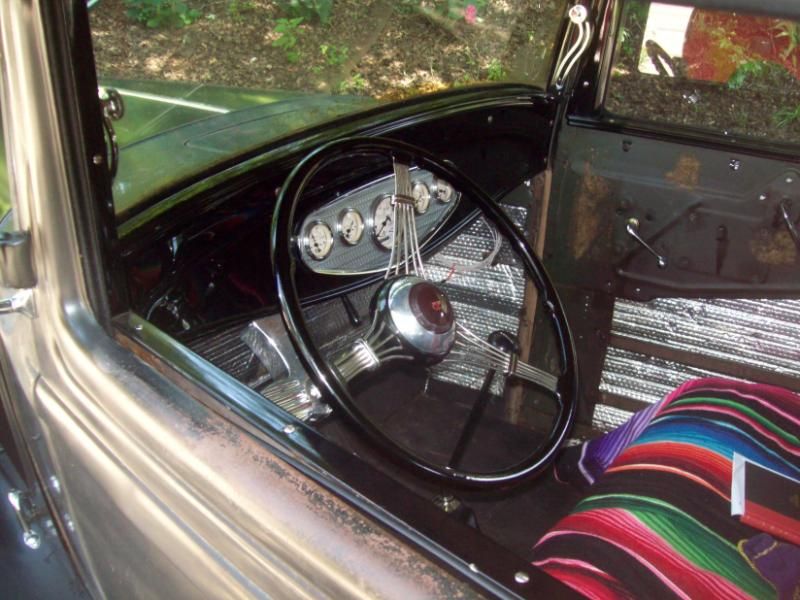 __________________
_________________
Danny
Site Administrator
I'm from a two tin cans and a string era trying to muddle my way through Cyberspace!
Photos of the Ranch Wagon,, 348 images and the Wagon is finally a driver!
http://public.fotki.com/hotrodprimer/hotrodprimer-1/