Well after a lot of long nights in the garage the Country Squire is on the Road!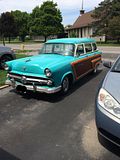 We drove her to my parents house for a BBQ on Fathers day, what a great ride.
She runs great but I've been chasing oil leaks, first the oil pressure sender, then the road draft tube. Then I discovered the real problem. The engine is so full of gunk and sludge that the drain holes in the head were blocked so the drivers side valve cover would fill with oil until it was forced out of the valve cover gasket. I'll pull the pan this weekend and work on cleaning out the sludge. 40psi of oil pressure at cruising speed.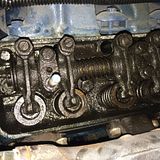 I trailered the car to the local Jeep dealer for a safety, I have a friend who works there. Everyone came out to see the car as it's clearly much cooler than anything they were working on, and right after I unloaded it from the trailer, it died
, turns out it was just out of gas, have to get the fuel gauge working.
This is definitely on of the most fun cars I've driven, she's a keeper!
I still have some trim to install, lots of polishing and a few bugs to work out, but she's a driver after 8 months!